Poverty reduction key to global human rights agenda: forum participants
China Plus,September 19, 2018

Adjust font size: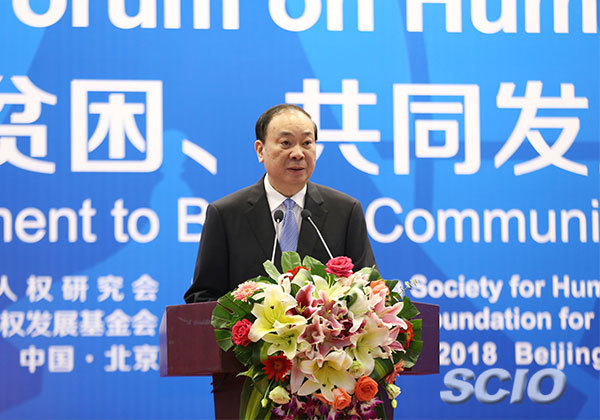 Huang Kunming, Head of the Publicity Department of the Communist Party of China (CPC) Central Committee, delivers a speech at the 2018 Beijing Forum on Human Rights on September 18th, 2018. [Photo: scio.gov.cn]
The 2018 Beijing Forum on Human Rights has kicked off, with the theme "Poverty Elimination: Seeking Common Development to Build a Community of Shared Future for Human Beings."
The two-day event this year has over 200 attendees from over 50 countries, regions and international organizations.
Participants have agreed that the battle against poverty constitutes a key part of the global human rights agenda.
"I think poverty reduction is an important part of human rights globally. The right to economic and social well-being is an important part of all people. So I think the efforts that are being made to reduce and eliminate extreme poverty are a key part of sharing human rights for everyone around the world," says Benjamin Davis, a program leader with the UN's Strategic Program on Rural Poverty Reduction.
Davis considers China's experience in poverty reduction as one of the great success stories globally over the past twenty or thirty years.
He adds that he is looking forward to learning different people's perspectives on human rights at the forum, and how poverty alleviation fits into their human rights.
Tom Zwart, Director of the Cross-Cultural Human Rights Centre (CCHRC) in Vrije Universiteit Amsterdam, agrees that human rights have a better chance for development when poverty is not an issue.
He says that the Chinese experience has shown that people will invest in their own future when poverty is reduced, but what he finds problematic is that China's efforts have not been fully recognized.
"Many northern countries do not see how many contributions are made by China to the human rights efforts. And as long as that doesn't happen, you do not have an equal playing field. So that's the problem. China's efforts are great, but they need to be more recognized by northern countries," says Zwart.
Afghanistan Independent Human Rights Commission Chairwoman Sima Samar says poverty reduction is key to human rights development, stressing that poverty reduction is shared responsibility.
"I think that the dialogue should be continued in order to learn from each other, because I do feel that it's not private responsibility or a personal responsibility. It's a collective responsibility, and we need to stand together to reduce poverty and reduce conflict as well," says Samar.
Huang Kunming, Head of the Publicity Department of the Communist Party of China (CPC) Central Committee, says China is willing to cooperate closely with other nations to protect human rights.
The Beijing Forum on Human Rights was firstly held in 2008, with this year's event the ninth of its kind.