Growing sweet chestnuts in Yichang
p.china.org.cn by Chi Wanting,February 08, 2018

Adjust font size: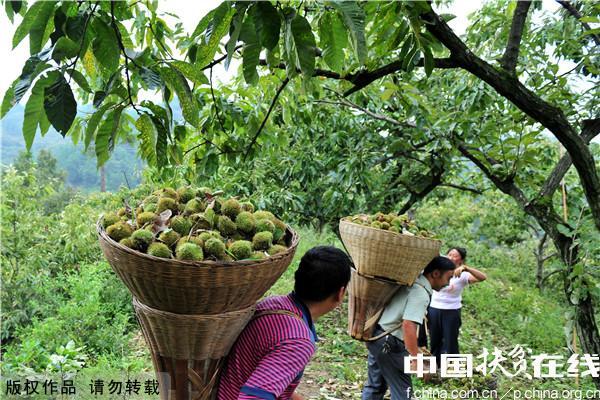 Heavy baskets of sweet chestnuts [Photo by Zhang Guorong]
September 5, 2017, and villagers are busy gathering sweet chestnuts in Letianxi Town in Yichang City of central China's Hubei Province. With the assistance of China Three Gorges Corporation, the town is looking to increase its income by cultivating chestnuts. At present, chestnut trees cover an area of almost 1,500 hectares, with an annual output of 800 tons. The harvest helps 5,000 households in 4 villages to earn 1,200 yuan (c. U.S. $180) each month, making it the main source of local income. This town is also becoming an ecological tourist attraction. As this process continues, China Three Gorge Corporation will strengthen its support for the transformation of Yichang villages. To date the corporation has assisted 50 projects by investing 123 million yuan (c. U.S. $19 million), increasing both employment and incomes for the local.