FFS and ICTs reduce poverty
p.china.org.cn by Chi Wanting,December 25, 2017

Adjust font size: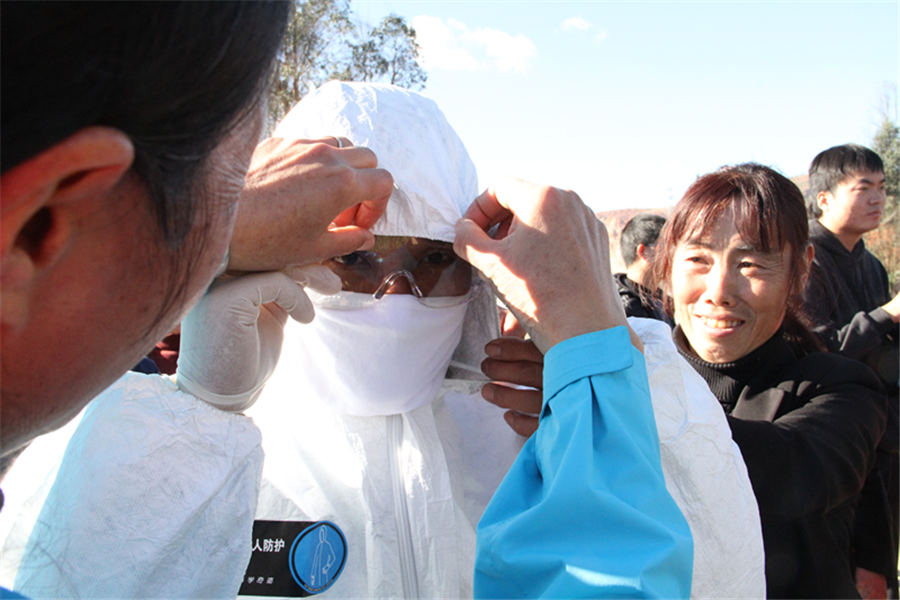 Expert explains how to use protective suit at Pesticide Risk Reduction Farm Field School in China's southwest Yunnan Province. [Photo by Jiao Meng]
A Seminar on Farm Field School plus ICTs for Poverty Reduction was held on December 13 in Kunming, the capital city of China's southwest Yunnan Province. Experts in agricultural technology, e-commerce, charity work and communication discussed how to upgrade agriculture via ICTs in order to bring technology to farmers and increase their income.
Hosted by the Food and Agriculture Organization of the United Nations (FAO) and implemented by Kunming Plants Protection and Quarantine Station, the seminar was co-organized by National Afro-Technical Extension and Service Center, and Yunnan Plants Protection and Quarantine Station.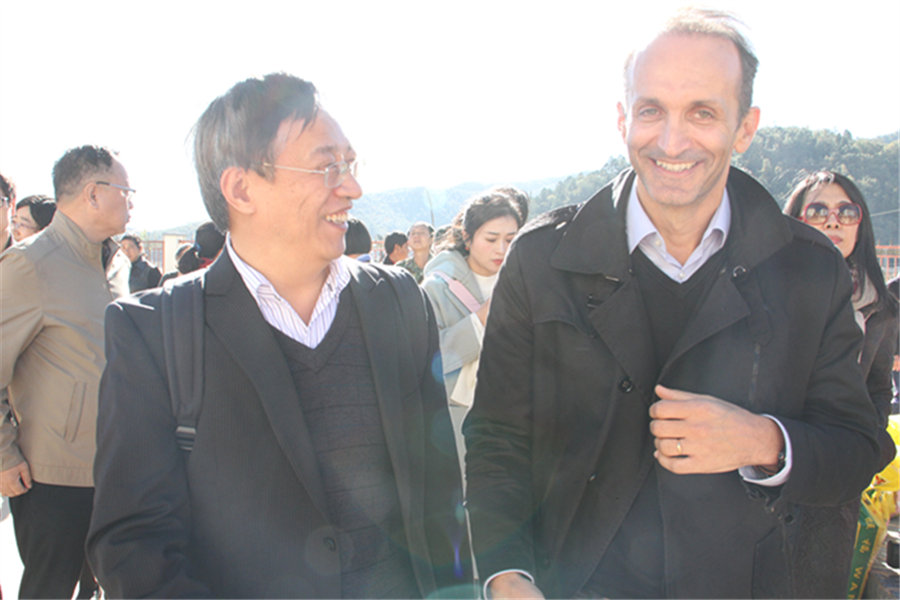 Dr. Vincent Martin, FAO Representative in China and DPR Korea (right), and Tian Yucheng, the chief engineer from CIIC (left), inspect the local school before the seminar.
Dr. Vincent Martin, FAO Representative in China and DPR Korea said in the keynote address that they aim to combine ICTs with Farm Field School (FFS) for poverty reduction. Martin also said, "To date there have been no systematic efforts to promote a new wave of FFS enhanced by ICTs and tailored to help the poor. As pioneers in this journey we hope that we could work closely together, and I am sure that our work will be of great value to agricultural extension and poverty reduction efforts elsewhere in the world."
Yang Puyun, a researcher at the National Afro-Technical Extension and Service Center, said that FAO's project had introduced Chinese farmers to a new concept. Its courses, manner of participation, and style and evaluation of training had been improved. In the recent two decades, FAO has helped to build more than 6,000 schools, and trained more than 2,400 instructors and 160,000 farmers. Yang wished to introduce ICTs to promote this model via online and offline training.

Li Yongchuan, head of the Yunnan Plants Protection and Quarantine Station, said that Yunnan is developing specialty agriculture. Melons, vegetables, fruits, herbal medicines, coffee and green tea are in great demand. Yunnan Province has achieved annual exports of U.S. $ 4.7 billion. The station has cooperated with FAO and the National Afro-Technical Extension and Service Center to promote integrated pest management and raise the quality and price of agricultural products.

He explained that there are more than 400 instructors at the local school, up from 11 in 2003. They teach farmers self-management, and how to use pesticides. It is estimated that Yunnan Province has reduced the use of chemical pesticides by around 30% per acre. Within this figure, the use of highly toxic pesticides has decreased by 60%.

Experts of internet field shared their experience of combining ICTs with agriculture. Tian Yucheng, Chief Engineer of China Internet Information Center introduced an application called "cloud platform for targeted poverty alleviation". Using information management and cloud computing technology, it enables users to track the process from production to consumption. It has additional functions in areas such as agricultural loans, remote payments, and marketing.

Li Min, Chief Expert for Poverty Reduction of JD.com, said the company has invested a lot in poverty reduction. For example, its official website has a special page for agricultural products from impoverished areas. Presently, it achieves sales of U.S. $ 1.7 million per day.

Jan Willem, an official from the Asia Pacific Office of the FAO, emphasized that FFS is open to all farmers. It is important for farmers to participate and share experience. Until 2016, this project was directed at health, climate change, animal husbandry, and environmental protection in more than 90 counties. Ultimately, he hoped that China's targeted poverty reduction can better serve developing countries.

FFS is particularly suited for studying complex management skills like natural resource management, diversifying production, and accessing markets to increase rural incomes. It helps farmers to analyze, research and solve problems, and ultimately to improve their decision-making.