'BRICS Plus' and the future of the 'BRICS agenda'
China Today,November 27, 2017

Adjust font size: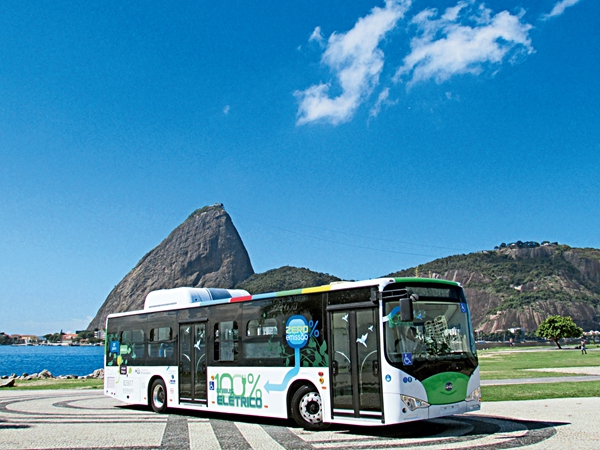 An electric bus manufactured by Chinese electric vehicle manufacturer BYD is operated on a trial basis in Rio de Janeiro in March 2014. [China Today]
The ninth BRICS Summit to be held in Xiamen, China, will take place in a different international and domestic context than that of earlier years, when BRICS nations maintained high growth rates. Currently, only China and India still maintain high growth rates. However, according to an IMF report, there will be a small decrease in India's economic growth, with its GDP forecast to reach 7.2 percent in 2017. China, which expects a GDP growth of six percent in 2017, may see its economy slow to around six percent by 2018. In other BRICS countries, the economic situation is even more complicated. The Russian economy is expected to grow at around 1.1 percent and 1.2 percent in 2017 and 2018 respectively. South Africa's economy is expected to grow at 0.8 percent this year compared to 0.3 percent in 2016. Brazil is the only member with darker outlook – its growth projection is only 0.2 percent. The economic context has been aggravated by the current trend of increasing international protectionism.
This scenario requires BRICS countries to propose ways of tackling these economic problems by themselves. But they also have to evaluate whether the circumstances and the political will of the five governments together favor a decision-making process that will strengthen the BRICS mechanism as a whole.
In March 2017, Chinese Foreign Minister Wang Yi presented a proposal to redefine the boundaries of BRICS by involving other major developing economies. This proposal became known as "BRICS Plus." "We will widen BRICS' circle of friends and turn BRICS into the most impactful platform for South-South cooperation," said Wang. He suggested holding outreach dialogues with other major developing countries and their organizations.
As yet, the "BRICS Plus" proposal has not been officially presented to other BRICS members, no invitations have been made, and no request for accession has been formalized, as BRICS is not an international organization and has no formal mechanism to accept new members. In addition, it is not yet clear how "BRICS Plus" shall be defined. It has been reported that the Chinese government would be interested to invite Mexico, Pakistan, and Sri Lanka.
This proposal has triggered controversy. Some analysts say that if it expands, BRICS would lose its focus; others suggest that the inclusion of Pakistan and Sri Lanka would be viewed with suspicion by India because India once considered those countries to be "pro-Beijing." However, aside from these impasses – largely because of the lack of clarification of what an enlarged BRICS might look like – the Chinese proposal is understandable, given the positive outlook for economies of developing countries. A study published by the World Bank shows an upward trend for the GDPs of developing economies. The annual average GDP growth rate for emerging markets and developing economies will reach 4.7 percent in 2019, while in advanced economies the average GDP will slow to 1.7 percent. The growth of emerging markets and developing economies will mainly be due to agricultural exports and the broad recovery of the energy and metals sectors.
According to the World Bank, the growth of the seven largest emerging economies (EM7) – Brazil, China, India, Indonesia, Mexico, Russia, and Turkey – will substantially outpace that of the G7 industrialized economies in 2018, benefiting other emerging markets and developing countries. What is worth mentioning is that recent PwC's data suggests that emerging markets will dominate the rankings of the ten largest economies in the world by 2050 in purchasing power parity. Taking these projections into account, it makes sense to speak of expanding BRICS to include other major developing economies.
There are further advantages. "BRICS Plus" may have the effect of reducing the relatively high economic weighting of China and India in the group. In addition, the expansion of members of the group would strengthen the trend of increasing engagement and cooperation with non-BRICS countries, particularly with emerging and developing countries, as well as relevant international and regional organizations. It is worth remembering that in 2013, the leaders of the BRICS countries met with leaders of African countries on the occasion of the fifth summit held in Durban, South Africa; at the sixth summit held in Fortaleza, Brazil, they met with the leaders of the South American nations; at the seventh summit in Russia, they met with leaders of the member countries of the Shanghai Cooperation Organization and, finally, at the eighth summit in India, they met with leaders of countries in the Bay of Bengal Initiative for Multi-Sectoral Technical and Economic Cooperation (BIMSTEC), including India, Bangladesh, Myanmar, Thailand, Bhutan, Nepal, and Sri Lanka.
In addition to discussing the advantages of a possible BRICS expansion, there are other key points to consider.
Since its creation, BRICS has focused on two areas: first is economic and financial governance – giving priority to coordination within the G20, including reform of the IMF and the World Bank. Second is political governance advocating the reform of the United Nations and its Security Council. BRICS countries present themselves as reformist countries, not disruptors, of the current international order. Thus, it is legitimate to ask whether the expansion of BRICS will reinforce the original narrative that emphasized the reform of international institutions in view of a greater participation of BRICS countries in the international decision-making process (which resulted in the creation of the NDB) or whether "BRICS Plus" would just end up as an economic platform for investment and trade and make the reformist agenda disappear.
It is important to point out that BRICS' scope is not limited to investment, international trade, and hard power issues. The five countries share the perception that they need to expand cooperation in the area of governance because there are common challenges, such as those arising from the urbanization process, the fight against pollution, poverty reduction and inequality, and the promotion of innovation and new technologies. In these matters, both business and academic forums can make a significant contribution as they help to promote dialogue.
The legitimacy of BRICS in the domestic and international arena stems from its agenda to reform the IMF and its endorsement of the G20 as the main forum dealing with international issues, from various business and academic forums that it promotes, as well as concrete initiatives such as the creation of the NDB. BRICS countries have a population of approximately three billion people, representing 42 percent of the world population; all five countries have large territories; BRICS has a trans-continental presence that adds strategic value to the group; and its economic weighting in the world economy is significant. BRICS has distinct characteristics and objectives compared to the inter-governmental cooperation schemes promoted by Western powers in the second half of the 20th century. And the "BRICS Plus" proposal can introduce another political dimension to the project. However, the challenge remains to find ways of better tackling differences between members.
The acronym BRICS has become synonymous with a shift in global economic power. If "BRICS Plus" prevails and deepens the initial impetus, the expansion of the group will be welcomed and the Chinese government's proposal will then become a decisive solution for BRICS in this difficult time and a benefit to the world economy.
Evandro Menezes de Carvalho is Executive Editor-in-Chief of the Brazilian edition of China Today and is a professor of International Law at Getulio Vargas Foundation (FGV) in Rio de Janeiro.