Let's have change for the better
China Daily by Hilton Cheong-Leen, January 17, 2017

Adjust font size:

Hilton Cheong-Leen hopes the 'pan-democrats' will stop their obstructionist tactics and make the legislature a more effective institution through closer cooperation with the government.

Much has transpired during the two decades under three Chief Executives - Tung Chee-hwa, Donald Tsang Yam-kuen and Leung Chun-ying. We are now at the beginning of 2017 and on March 26 the new Election Committee of 1,194 members will elect the SAR's fourth Chief Executive for a five-year term.

Sad to say, Hong Kong people missed a chance to elect their Chief Executive this year by all its 4 million voters, one-man-one-vote style, in accordance with Article 45 of the Basic Law. This was due to the lack of political vision by the "pan-democratic" camp in vetoing the government's political reform package in the Legislative Council in mid-June 2015.

The next opportunity to make amends will be in 2022. Perhaps this may be a blessing in disguise for Hong Kong's political development. The anti-mainland groups in the "pan-democratic" camp may then have a more inclusive vision of positive changes on the mainland. It may transpire that by then, too, most Hong Kong politicians will have a more pragmatic attitude to political reform.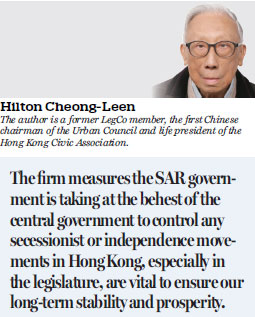 Leung Chun-ying's plan in economic and livelihood policies was thwarted by antagonism against him, provoked partly by his no-nonsense political style when dealing with the "pan-democratic" camp. In spite of his achievements improving livelihood issues for most people, the "pan-democratic" camp launched a bitter anti-Leung campaign.
A reason for his decision not to run for a second term was to spend more time with his family. He has instead decided to devote more efforts to the final six months of his five-year term to fulfill promises made in his election manifesto. This is most commendable.
From the beginning of his term of office in 2012, the "pan-democratic" camp had accused Leung of being too subservient to the central government, not respecting their views and being divisive. Yet it is because of his efforts in fighting for livelihood issues that people can look forward to a 10-year public housing development plan of about 480,000 units. There is also an ongoing poverty reduction plan for low-income families.
Judging from the tributes he received from the central government - from President Xi Jinping down to the Hong Kong and Macao Affairs Office of the State Council - Leung is clearly held in high esteem.
In the remaining six months of his term, he will have to work on other important commitments in his election manifesto. These include a 15-year free education plan, improved healthcare services together with a medical insurance plan, a plan for standard working hours, a pension plan or retirement protection scheme, and better care of elderly people.
The firm measures the SAR government is taking at the behest of the central government to control any secessionist or independence movements in Hong Kong, especially in the legislature, are vital to ensure our long-term stability and prosperity.
At the same time, it is an opportunity for the central government to make Home Return Permits more available to Hong Kong citizens, including antagonistic LegCo members who have been critical of the establishment, with the exception of those who advocated secessionist or independence agendas.
It is to be hoped too that the LegCo will change and become a more effective political institution through closer cooperation with the government. This is necessary to expedite budgetary approval and other issues in LegCo. This can be done by stopping obstructionist tactics, bad behavior and time-wasting filibustering. This hinges on the LegCo president exercising his authority fairly and firmly when the need arises.
Meanwhile, people who want to have a better-performing LegCo should write to their representatives expressing their views of their conduct in the chamber.