Big data employed to combat poverty
China Daily, January 14, 2017

Adjust font size: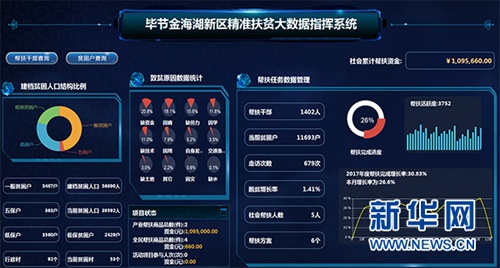 Information is gathered on poverty-stricken households on the big data system. [Photo/xinhuanet.com]
Bijie city in Guizhou province unveiled its latest weapon in the fight against poverty on Jan 10 – big data.
The system, "Huaxiayuncheng", is designed to collect, combine, and analyze information provided by people in the city, the government, and businesses in order to optimize the agricultural market for small-scale farms and farmers.
Zhu Yongzhen, the vice director of the district's Agricultural Committee, said Jinahaihu district in the city has more than 39,000 people living in poverty, most of them agricultural workers.
"The new system will help to find more buyers for agricultural products, and allow local officials to better understand the needs of people struggling to make a living," Zhu said.
Huaxiayuncheng will keep accurate records of many facets of those living in poverty. It will also collect information of the work which has been carried out by local officials and its effectiveness.
The final cog in the machine will be the application of WeChat Mall, and e-commerce platform, which will be used to target the agriculture sector. Enterprises will be able to subscribe to the platform and assess in real time, the stocks of local agricultural produce available, such as cattle or honey.
At the opening ceremony, four enterprises signed subscription contracts worth 7.5 million yuan ($1.09 million) with the district. Twelve poverty-stricken households also found buyers for their pigeons through the application.